Glow Facial Serum with Vitamin C + Hyaluronic Acid by Wicked Soaps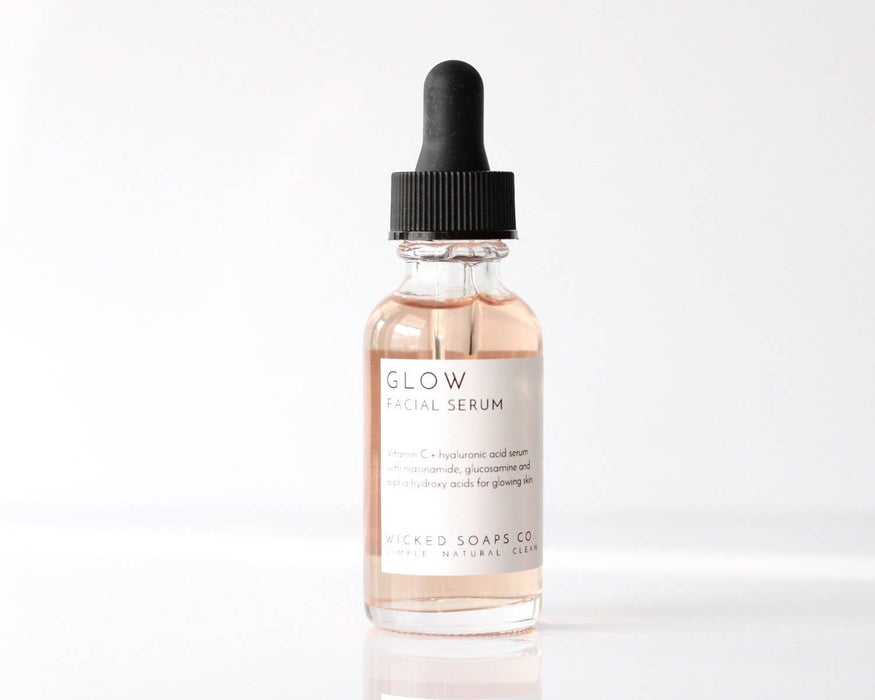 𝗚𝗹𝗼𝘄 𝗙𝗮𝗰𝗶𝗮𝗹 𝗦𝗲𝗿𝘂𝗺 works to brighten, hydrate, firm, smooth, and gently exfoliate revealing soft, glowing, and radiant skin. Vitamin C is a powerful antioxidant with many benefits for skin. Research shows that high strengths of vitamin C (10% and higher) are particularly effective and provide a host of benefits for skin. It inhibits melanin production in the skin which helps to lighten hyperpigmentation and brown spots, evens out skin tone, enhances skin radiance, and protects the skin from environmental stressors such as free radicals.
Hyaluronic Acid has an amazing ability to attract and retain moisture - up to 1,000 times its weight in water - which makes it a wonderful inner moisturizer. As we age, our production decreases which can lead to wrinkles and dry skin. Use of hyaluronic acid can restore moisture and elasticity, leading to smoother, plumper, and more radiant skin.
Packaged in a 1 oz reusable glass bottle with dropper.