U.P. Pine Candle by Finnmaker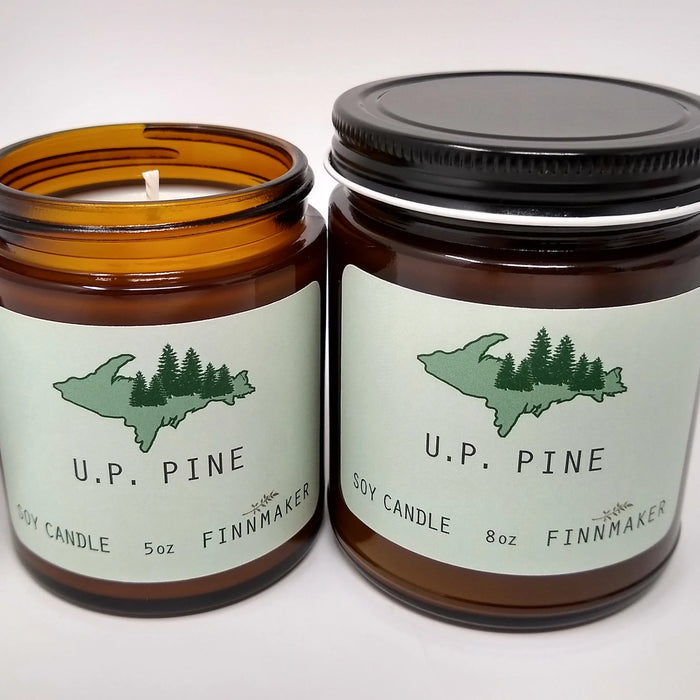 U.P. Pine: A pleasant blend of fir, balsam, and crisp woods inspired by the scent of pine in the Upper Peninsula of Michigan.

This wonderful scented soy wax candle will look beautiful in your home and will infuse it with a delightful aroma. Would make a great gift for that special person in your life!

Soy Wax in Amber Glass jar (jar can be recycled or reused) with a black lid.

Clean-burning, non-toxic, eco-friendly, and long-lasting candle.

Soy wax is clean burning and produces very little to no soot. Soy wax is a far better option than paraffin wax, which produces soot and pollutes your environment. Soy wax does not contain any harmful toxins or carcinogens and is a completely renewable resource.

Soy wax burns cooler and will generally last 30-50% longer than paraffin wax candles. 8 oz. candle burns for approximately 50-60 hours. 5 oz. candle burns for approximately 40-50 hours. 4 oz. candle burns for approximately 25 hours.

Burning Instructions:
Keep wick trimmed to 1/4" for each burn.
For first use - burn until the wax pool meets the edge of the glass (this allows for an even burn).
Do not burn longer than 4 hours at a time.
Let the wax cool before each burn.
Burn in a safe place away from children, loose articles, hanging plants, and curtains.
Keep away from drafts (this can create an uneven burn and a flame that is too strong).