Smoked Cayenne Habanero Pepper Hot Sauce "The Siren" - Grand Traverse Sauce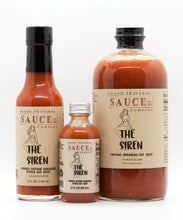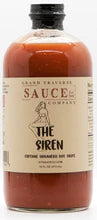 The Siren is a smoky, cayenne and habanero sauce that packs a kick. It starts off smoky and balanced with a slight cayenne kick and finishes with habanero. 
This sauce is a favorite on fajitas, hamburgers, potatoes, eggs, pizza, roasted vegetables and rice. 
Because of the habanero, we recommend a sweet wine or beer with a higher alcohol content. 
This sauce was inspired by our travels in Europe, we took a river cruise on the Rhine and heard of the tales of Lorelei, who, depending who you ask is a siren, a nymph or a mermaid whose beauty and song would distract fishermen and captains and cause them to sink their ships in the Rhein River. 
This sauce is addictive, it's hot, it's good on everything and before you know it you are hooked. 
We don't suggest sailing while eating the Siren....ya know, just in case. 
The Siren
vegan
gluten free 
no artificial flavors
INGREDIENTS: Cayenne Pepper Sauce (Red Cayenne Peppers, Distilled Vinegar, Water, Salt, Garlic Powder), Habanero Peppers, Onion, Lemon Juice, Garlic, Liquid Smoke