Sauna + Birch Candle by Finnmaker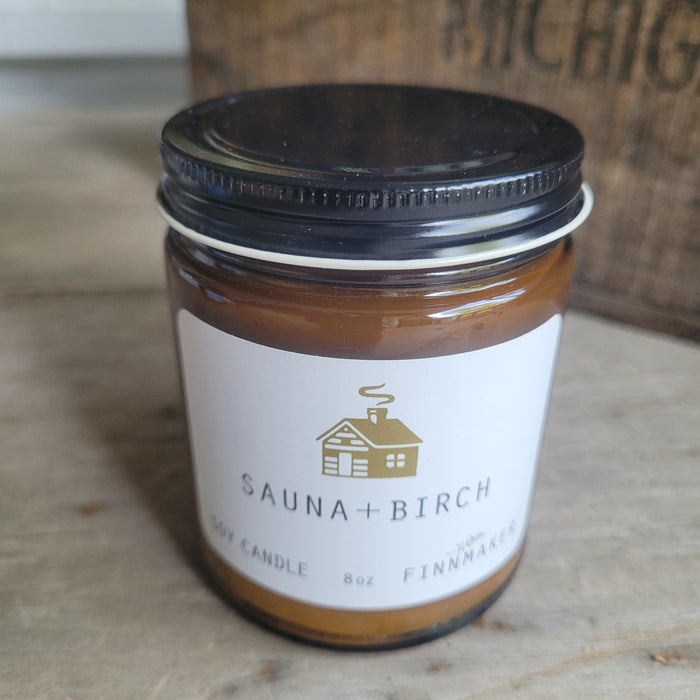 Sauna + Birch is a well-rounded woodsy blend of birch, pine, balsam, cedarwood, & eucalyptus.

This candle is a handcrafted candle made by our family in Atlantic Mine, Michigan USA. We strive to make the highest quality product - it's our passion to make amazing scented eco-friendly soy wax candles.

This wonderful scented soy wax candle will look beautiful in your home and will infuse it with a delightful aroma. Would make a great gift for that special person in your life!

Soy Wax in Amber Glass jar (jar can be recycled or reused) with metal or cork lid.

Clean-burning, non-toxic, eco-friendly, and long-lasting candle.

Soy wax is clean burning and produces very little to no soot. Soy wax is a far better option than paraffin wax, which produces soot and pollutes your environment. Soy wax does not contain any harmful toxins or carcinogens and is a completely renewable resource.

Soy wax burns cooler and will generally last 30-50% longer than paraffin wax candles. 8 oz. candle burns for approximately 50-60 hours. 5 oz. candle burns for approximately 40-50 hours. 3.6 oz. candle burns for approximately 25 hours.

Burning Instructions:
Keep wick trimmed to 1/4" for each burn.
For first use - burn until wax pool meets the edge of the glass (this allows for an even burn).
Do not burn longer than 4 hours at a time.
Let the wax cool before each burn.
Burn in a safe place away from children, loose articles, hanging plants, and curtains.
Keep away from drafts (this can create an uneven burn and a flame that is too strong).